Post 1: Learning, Motivation, and Theory
Share a story about your best learning experience (could be a formal course or something more personal). Why did you enjoy it?
One of my most memorable and best experiences was to participate in PASS 280 (A Taste of Japan) at uvic last spring term. Unlike other engineering courses I took before, PASS 280 was a course that introduces the culture of Japanese people, Japanese food, and Japan itself. At the beginning of this class, it scared me a lot because there was a midterm, a final exam, two 2500-word essays, and weekly-done recipes need to be done. That was the first time taking a Liberal Arts course, so I was very curious how to write essays in different styles (I've been doing a lot of technical writings in the previous time.).
In the first week, we needed to do a recipe list to do many kinds of Japanese food at home every week until the end of this term. I usually make Chinese food for myself and my friends but I never tried how to make Japanese food. As I am very interested in learning how to make different kinds of food, I made a long list and put DASHI as my first-week recipe. On that weekend, I bought some KATSUOBUSHI and KOMBU at Fairway supermarket, I put KOMBU and 2 cups water in a small pan. Brought to a simmer over medium-low heat, about 25 minutes. Just before water begins to bubble, discard kombu, and then increase heat to high and bring to a boil. Add bonito flakes (KATSUOBUSHI), pressing with a spoon to submerge, and immediately shut off the heat. Let flakes settle to the bottom of the pot, about 15 minutes. Finally, I strain through a cheesecloth-lined strainer into a bowl. Wring out all liquid from the cheesecloth into a small bowl, and put it at the room temperature for over 2 hours. Dang-dang! A self-made DASHI was done! I was very excited and proud of myself even though this was very easy to make, but this was my first time trying another culture's food in my lifetime. I wrote down everything that I did and the feeling about the tasting procedure, and made a Soba as my dinner.
  (Sushi I made)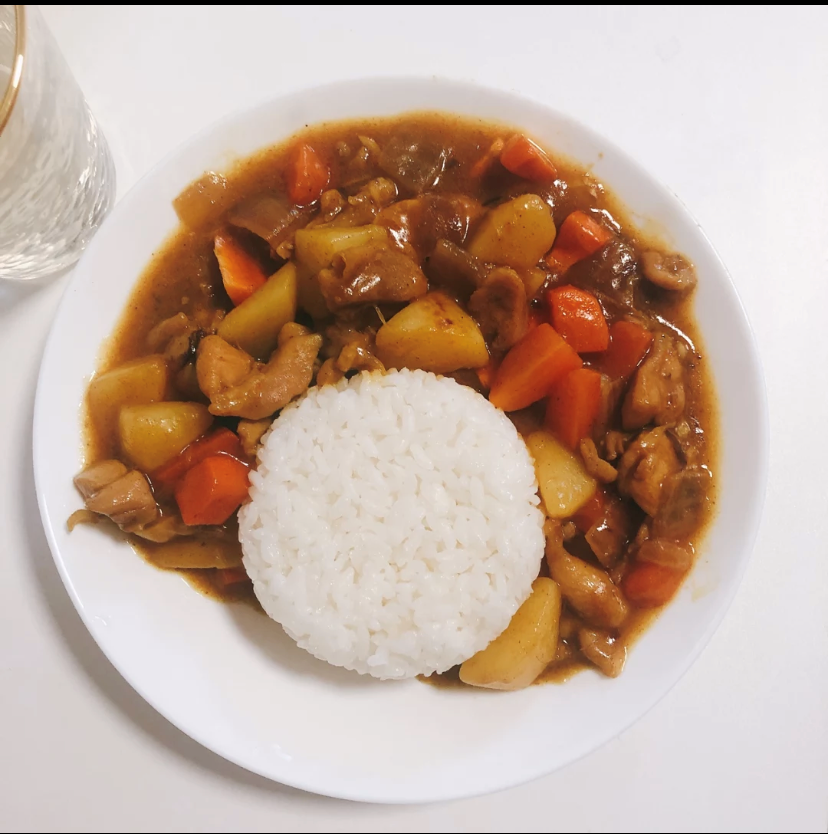 (Curry Chicken with Rice)
In the next few weeks, I learned how to make Sushi, Takoyaki, Unagi Don, Udon, Miso soup, Oden, Tonkatsu, and learned how to distinguish the differences among many kinds of Japanese teas and Rakees. I finished an essay about why most of the Japanese are skinny.
At the beginning of this course, I thought that this course might be my burden in that semester. However, after a few week's learning and experiencing, I explored the interesting part of it. Now, making Japanese food is becoming my weekly routine, I like making Japanese food on the weekend for my roommates and myself. Consequently, I really enjoyed that course (PASS 280) and I feel very useful and meaningful.
References: https://www.japan-guide.com/e/e620.html